Scopione.com is dedicated to providing superior customer service to every customer that we have the pleasure to serve. We know that shipping is one of the most important parts of the online shopping process, and we want you to be able to buy from us with confidence. We have created this shipping and returns page to explain how we ship to and handle returns from our customers. Our top priority is to fulfill every order as quickly and affordable as possible and our policy enables us to do so to the best of our abilities, while ensuring that parts arrive safely. To put your mind at ease and to assure you that you will experience nothing but the best when you buy from Scopione.com, we will choose the most economical shipping method possible for international and domestic orders, unless other arrangements are made between you, the customer, and our customer service team. UPS, FedEx, USPS, and DHL are our preferred carriers, and in some cases freight companies may be employed to ship over-sized items like carbon fiber trunks, hoods, fenders and side panels.

---
Shipping Methods
You can find out the cost to ship an item(s) by adding it to your cart and looking at the price calculated at checkout, or you may contact our customer service team for assistance. Shipping costs vary based on the size of the final package(s) and the intended destination. Full insurance is purchased on every order shipped by Scopione.com, and the cost of that insurance is already included in the shipping cost. If the item is lost on its way to you, we will cover the cost from the settled insurance claim; however, we must first confirm with the shipping company that the parts were lost in transit. International customers are responsible for fees associated with customs, freight, shipping, taxes, and duties. Any additional fees assessed by shipping carriers are responsibility of each customer.
Items sold by Scopione.com are brand new, unless specified otherwise on the product listing. We do not accept responsibility for any damage that occurs while orders are in transit. Damage that occurs due to shipping is the responsibility of the shipping carrier. We require all orders to be signed upon receipt; however, most of the time anyone can sign for the package. Signing signifies that you have received the merchandise and found it to be in brand new and undamaged condition. As a result, you must thoroughly inspect the condition of your parts prior to signing. In the event that your package(s) arrives damaged, you are advised to accept the package but to notate the damage that occurred. Ask the delivery carrier as well to validate the claim.
At no time will packages be rerouted while in transit. Orders that are placed via PayPal, or similar payment methods, can only be sent to confirmed shipping address on the payment. This is necessary for ours and customer's security. If you refuse delivery of your order, we reserve the right to charge a 15% restocking fee on standard merchandise and a 35% restocking fee on special custom made carbon fiber parts. Return shipping is the responsibility of the customer, and the cost of shipping is non-refundable; however, if an item purchased is damaged or defective, we will accept the return and send out the replacement at no cost to you. Although we do our best to prevent it, damages may occur during transportation of goods. It is our policy to rigorously inspect items sent out as replacements for defects to ensure your full satisfaction.
Upon completion of the checkout process, an Order Confirmation email will be sent to you and you will be assigned a unique invoice number. All in stock items will be shipped out within 5 business days. Items that are back-ordered take an average of 3 to 5 weeks for delivery. If some items in your order are back-ordered, in-stock merchandise will be shipped within 5 business days, and you will receive an email notification to advise you that the rest of the order will be delayed. As soon as the back ordered items are back in stock, we will ship them to you and send you a second email with information regarding the shipment. Most of the time, UPS Ground service will be used to ship products purchased from us unless otherwise specified. UPS Ground Service normally takes 2-7 business days from the time your order is shipped. We also ship to P.O. Boxes and A.P.O addresses by USPS mail. Please note that depending on your geographic location, not all shipping methods are available. For international orders we use DHL, UPS, FedEx or USPS, whichever is cheaper to ship to a given country. If an item you have purchased requires special handling, you will be contacted by us with more information. We are always glad to advise you of the status of an order at any time.
Returns and Refunds
Scopione.com advises customers to have all replacement and aftermarket parts installed by professionals. Doing so will help to ensure that both your vehicle and the new parts remain in good condition and work properly. We are not liable for any damage to vehicles or parts that occurs during the installation process whether the work is done by a customer or by professional installers. Scopione.com accepts returns within the first 30 days of purchase unless you are specifically told otherwise. We will accept returns of merchandise to replace with a new item if the wrong item was shipped or it arrived defective in the original packaging. Damages that occur when items are in transit are the responsibility of the shipping company; however, we will assist you with seeking reimbursement from them. When a mistake is solely the fault of Scopione.com team, we will do our best to replace the product in question as quickly as possible.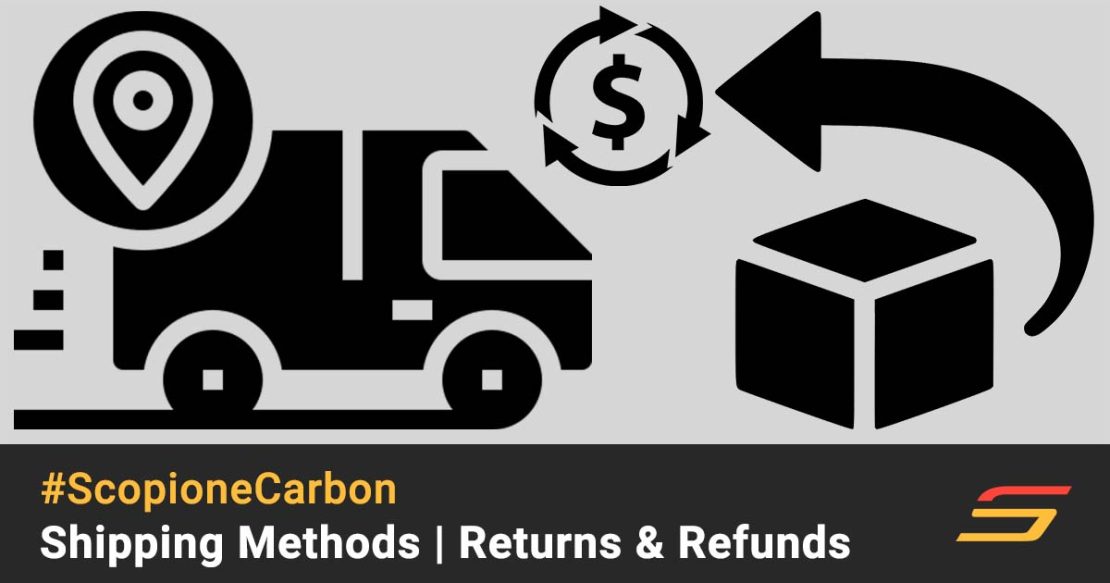 Returns are only accepted on brand new, unused, unmodified, unpainted and unaltered merchandise. Returned items must be in their factory packaging unless the factory packaging was damaged beyond repair. Return shipping costs are the responsibility of the customer. Scopione.com advises those returning merchandise to purchase shipping insurance, as we are not responsible for returns that are lost or damaged during shipping. In the event that you need to return a product or request a replacement, you must contact our customer service team. Please fully disclose the reason for the requested return or replacement to eliminate delays processing your request. If it is discovered that a part was damaged or broken due to your own fault, the item will be returned to you, and you will be liable for the cost of the return.
Prior to sending your return, you must receive a Return Authorization or RA number from our customer service team. This number must be displayed either on the outside of your shipping container or on an easy-to-locate note inside of the package. Failure to obtain or include an RA number could result in your return being refused and sent back to you. **Special orders and all custom made parts are not returnable. Final sale merchandise is also not returnable. We constantly work to ensure you're completely, 100% satisfied with your order. It's our goal to ensure you're a happy, valuable customer. If you have questions about the return policy, we'll be happy to answer them for you.
International Shipping
Carbon fiber parts for vehicles and motorcycles are a worldwide phenomenon, and Scopione.com is proud to provide the best parts and accessories to customers all over the world. As an international customer, you can expect to receive the same top-notch service that we provide to our US and Canada buyers. Shipping Internationally can be a little overwhelming, so our international shipping team ensures that each item arrives in a timely manner and in perfect condition.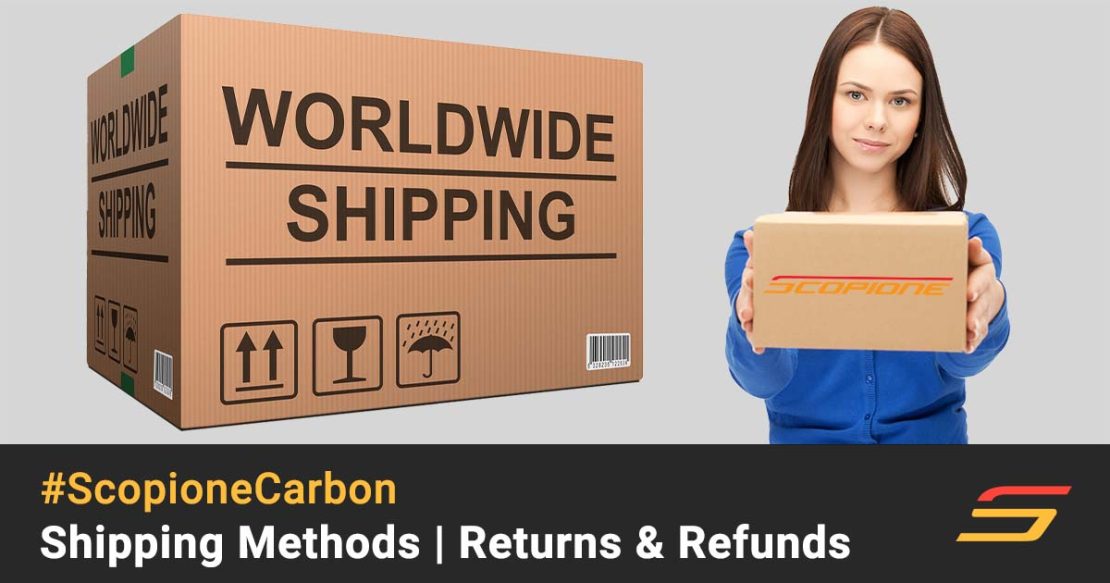 International documentation and carriers are handled by our team of experts to get you the very best shipping quotes available. We will analyze your specific needs and your destination country to make sure your shipping experience is pleasant. We calculate your final shipping fees based on weight, value (for insurance purposes) and destination. Different countries have their own shipping demands and rates, therefore destination plays a big role. Scopione.com can ship carbon fiber parts orders to most countries with the exception of Cuba, Iran, North Korea, Sudan, Uganda and some others. All of our prices are in U.S. Dollars (USD) and are subject to change at any given time without notice.
All international shipments must clear customs and all international fees must be paid by you. You, the buyer, are responsible for all custom clearances, duties, taxes, brokerage services, etc. We are not responsible for any international fees or international requirements within your country. International returns are subject to our return policy. Please note that we are not responsible for shipping and handling fees if your order cannot be delivered due to incorrect addresses, declined delivery, or any other reason. When filling out your final delivery address information, always check it to be sure everything is correct. If an order is refused or returned to us by the shipping carrier for any reason, we reserves the right to retain all original shipping and handling fees and any costs incurred for the return of the item to us. We pride ourselves with the level of customer service we provide to our international buyers and their shipping needs. Again, please be very careful when filling out your mailing information, it's good for you and it's good for us!
Still have questions regarding our shipping or return policies or need help with a return? We'll be glad to assist you. Please contact our customer service team by sending us a message. No matter what the reason for your return is, we will work hard to make the situation right for you.
---
---